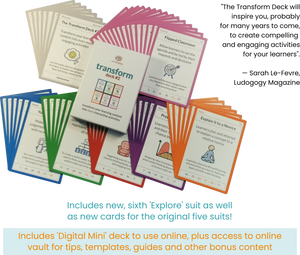 Regular price
Transform Deck 2
---
The Transform Deck 2 is a sequel or companion for the Transform Deck. It contains 45 new, additional activity types to add to the 45 in the original deck, as well as 7 new how-to cards, to help you think of new ways to use the cards.
The deck also contains a brand-new suit: 'Explore', to add to the five in the original, opening up new possibilities and options for learning.
While the deck will work on its own to inspire new ideas to transform learning content into interactive activities, we recommend that you buy the original Transform Deck first, or at the same time.